Well, as usual, I have fallen a bit behind on this blog and in fact it feels foreign to actually have some time to sit down and write! I have spent the past year barely getting a moment to myself (due to chartering) and I find I am a stranger to this newly found solitude. In fact, as it stands, I hardly even see my husband most days anymore, which is a major shift after spending 24/7 working and living with each other aboard a boat. Dare I say it's a bit lonely around here?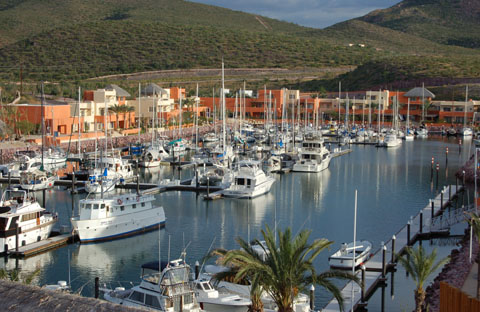 Forgive me, I really am off track…where exactly is "here?" Let's go back a few months to where I left you hanging, back to August when Mike and I got our first vacation from our company and spent our time off in La Paz, Mexico working on our boat Maluhia. We enjoyed our much-deserved break, but we were not nearly as productive as we had hoped to be. We rented a beautiful apartment in La Paz, which was close in proximity to where our boat was located on the hard. Each steamy hot morning we would slowly saunter through the beautiful Costabaja resort (where our apartment was located) and enviously gaze upon the sailboats in the slips that were not in a state of disrepair. We lingered as long as the heat would allow, procrastinating to cross the line where the sidewalk turned into a dusty red dirt path leading us to our doom of the boat yard. I cannot help but feel sorry for our boat every time I set foot behind the tall barbed wire fences where hundreds of boats are stacked up next to each other like canned sardines. It's as if we left her in prison, a feeling that continues to bloom as time progresses.
Despite my feelings of doom and gloom, Maluhia actually faired pretty well during our absence. She is certainly dirty and dusty, but she did not suffer any damage, which was something we were concerned about. I was dreading the moment of opening up the companionway doors as I had visions of cockroaches and rats dancing across the floorboards and swinging from the electrical wires. Fortunately, my visions were wrong and it appeared that we had no unwelcomed guests move in. Hallelujah! As we assessed our beloved home and tried to come up with a game plan for action, we felt the hot Mexican sun penetrating through the hull making it nearly impossible to breath in the confines of the fiberglass and wood. This was going to be a much bigger and harder project than we had imagined.
We quickly learned how to work like the locals do, waking up early to make the most of the coolness before the sun was in full force, taking an afternoon siesta in the confines of an air conditioned apartment during the heat of the day (well the locals may not be quite that spoiled with A/C), and returning to work in the late afternoon as the sun started to wane, but yet linger until almost 9 pm. These extra hours of daylight were not only handy when we decided to work late, but were also very nice when we decided to waste our evenings away wading in the resort's beautiful infinity pool overlooking the sea and diminishing sun. We were on vacation after all.
The job was immense and the progress was slow. We just didn't have the energy for this work after 17 months straight of chartering (see previous post for a glimpse of a day in the life of chartering). Additionally, we were running into some significant problems with the boat yard as the rules had suddenly changed and we were no longer allowed to work on our boat. It was a bit of a blessing if you ask me, because it meant all the nasty work of grinding off the old gel coat and bottom paint would not be up to us, but rather done by the guys at the yard. It was hard to swallow the price tag for such labor, but in the end having the help with the dirty work was a huge advantage. The only problem, however, is that the work was slow and inconsistent. Furthermore, the huge Hurricane that hit La Paz made progress come to a grinding halt.
I had every intention of writing a full blog post about our experience during Hurricane Odile at the time of the disaster, but the truth of the matter is that we were so consumed with the aftermath and also with the fact that we had to figure out how to get out of La Paz to get back to our job in Antigua (since the Cabo airport was destroyed). We felt like chickens with our heads cut off for a few weeks! So now, I find it only fitting that as we approach the Hurricane season of 2015, I should reflect back on our experiences in 2014, as it was certainly a year for the books.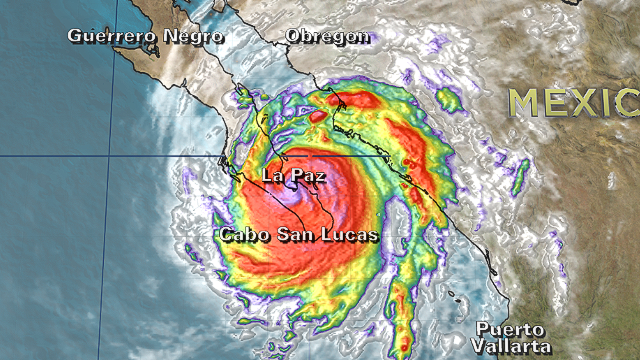 When Hurricane Odile hit September 14, 2014, Mike and I were fortunate enough to be "boat sitting" on a friend's 55' steel sailboat. This boat was a beast and had spent the majority of its life dodging glaciers up in Alaska. We couldn't have asked for a more secure situation. The cruisers in La Paz are quite an amazing community of people. Each morning they share news amongst other things through a VHF radio net. Everyone was well informed of this storm that was due to hit, although not everyone took it seriously. Many boats opted not to take safe harbor in a marina, and it was those boats that suffered in the storm (nearly all of them ended up on the beach). It was nighttime when the storm hit and it felt like we were offshore sailing in the slip. We couldn't see anything outside, but could hear the howling of the wind and the creaking of the boats as the lines violently stretched and snapped away from the dock. We were positioned next to a huge powerboat that kept creeping closer and closer to us as the wind speed increased (we saw a max wind speed of 125 knots or 143 miles per hour). Mike would occasionally be brave enough to venture outside to check the lines and make any adjustments necessary, not only on the boat we were on, but also on the neighboring boats on the dock. It is a miracle that he didn't blow away. He was practically crawling on the docks just to stay low and keep safe.
While it was a bit scary for us, we were actually in the best position we could have been in. We worried a lot about our boat on the hard, as well as those who were crying for help over the radio as their boats were sinking or spinning out of control (the ones who stayed out on anchor or a mooring ball). We felt incredibly helpless. Despite the commotion, we restlessly slept for about an hour or two as the calm started to approach in the morning. As the world became illuminated, I was glad that I couldn't see what was happening during the night. Just in the marina around us, glass was blown out of the windows of the store fronts, trees were fallen everywhere, and power lines were down.
Minor disrepair compared to the rest of the city, and its devastated neighbor Cabo, which was completely destroyed with a direct hit of the Category 4 hurricane.
That day marked the two-week venture of helping out with search, rescue, and recovery. The
town came together amazingly fast and started to rebuild. The cruiser community developed parties to search for the 3 missing persons and to help aid those whose boats had ended up on the beach. I could write a book alone about this time. It was emotionally and physically wearing on us. The three missing persons were found dead, one, who was our friend, sunk in his boat, and the other two found in the mangroves in full body immersion suits. Their boat had also sunk. Roughly 34 boats ended up on the beach, most were eventually recovered, but a few were permanently damaged. The community of people here were amazing. Everyone gathered together to help out. It is interesting how tragedy brings folks together.
Our biggest challenge in the week after the hurricane is that we were without power. It wasn't so terrible for us because there was a generator on board and we were able to still enjoy most comforts, but it was a huge inconvenience to many people who didn't have a generator.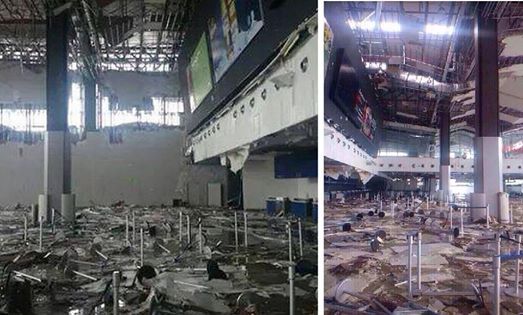 Additionally, we were stumped as to how we were going to fly out of Cabo since the airport was totaled during the storm. All flights had been cancelled for about a month at that stage. We were able to get our money back from the airline, and I was able to find us a little puddle jumper plane that would fly us out of La Paz after our two weeks of search and rescue and pack up of Maluhia (which was completely fine during the storm…thankfully). We did not feel organized leaving, but we didn't have a choice. The storm set us back 2 weeks in getting back to work in the Caribbean, and we were meant to be on charter in Antigua in a week's time. No rest for the weary.
We left Mexico feeling disheveled, like our entire world has just been flipped upside down. The emotions were still raw from the horrific experience of the hurricane, and it was hard to switch gears to get back into work mode. Upon arrival in St. Maarten, we stepped upon the boat that we had left 10 weeks ago in pristine condition only to discover that it had been trashed. None of the work had been completed in the dry dock yard, even though the company paid for it. Stuff had been stolen off the boat, which was something I was very worried about prior to our departure. It was a complete nightmare! I was on the verge of a breakdown, but I didn't have time. It was a long hard week of fighting for justice; better pay, respect, support, help, getting our boat fixed up as it should have been while we were gone, and begging for the supplies that were stolen off the boat. I knew it was going to be a bad experience coming back, but I didn't know it was going to be that bad. We left port in St. Maarten with a very bad taste in our mouths and rushed back to Antigua the day before our first charter of the season (a 26 hour trip having us arrive late at night the day before charter).
Fortunately, our team came together in Antigua and helped us as best as they could. The boat was ok, but not how Mike and I like to keep it and we didn't have time for detail work. We didn't even have time to feel anything; we just worked like robots getting everything in order, hoping to have the energy to muster a smile as the first guests arrived. At 4pm the guests started rolling in, excited for this adventure they had been waiting many months for. I was completely void of any emotion or excitement, but merely was just going through the motions. I hoped a good night's sleep and the first sail the next day would sort me out.
The next day Mike and I were still a bit off, which we knew was not fair to our guests. We did our best to fake it, but it was a struggle for us since we were so emotionally and physically exhausted. In fact, looking back, I don't even remember those couple of days at all...that is until we got the dreaded phone call early that evening.
We just completed our longest sail of the day and were settling into the anchorage of the beautiful Jumby Bay when the phone rang. It was one of our managers in St. Maarten mentioning that there was a tropical storm headed our way. My heart sank. Remember how we missed some details as we got ready for charter? Well, the biggest detail of all is that we missed checking the weather. We just so happened to be in a bay that did not offer much protection and was surrounded by uncharted reefs on all sides, making it impossible for us to motor back to safe harbor since the sun was rapidly setting and there was no visibility of the reefs. Our managers believed we would be ok, as the max wind forecasted was 45 knots of wind and the direction of the storm meant that the little bit of protection that the island did offer would be in our favor. Being jaded from Hurricane Odile a mere 4 weeks ago, Mike and I tied down all the sails and prepped the entire boat for a big blow, all while trying not to freak out the guests who were basking in the first day bliss of their vacation.
We carried on with charter as normal and had a wonderful dinner that night. Once all the guests were asleep, I hunkered down on the computer and started getting current weather forecasts. There were no changes in the forecast…the tropical storm was still headed our way and would most likely hit us through the night until around 8 AM the next morning. Being a bit of a worry wort, I couldn't sleep. I stayed up all night monitoring the weather, watching our position, and monitoring any change in noises. It was a pretty smooth night, with the max wind speed hitting 36 knots. Around 4 AM, I tried to lay down for a couple hours since it appeared that this was just a mild storm and we would have to keep on with our charter itinerary as planned.
Mike got up on the morning of October 12, 2014 around 5:30 AM and started securing more things on the boat. I was woken up by his ruckus, so I decided to get up as well and lend a hand.
I was completely shocked when I reached topside. I couldn't see a thing outside the windows! It was completely white outside and the wind was howling. The storm was coming. The knot indicator was reading 48 knots, which was a significant increase from the 30's it was holding at when I went down at 4 AM.
The feelings of exhaustion were a faint memory as anxious adrenaline pumped through our veins. We carried on as normal, making breakfast and greeting our guests with positive attitudes and bright smiles as they woke up. They were shocked to see the weather, but at this point, they still didn't know that a Tropical Storm was coming. As the first round of guests started their breakfast, I jumped onto the weather station to see what the updates were. The storm was now officially named TS Gonzalo, but they still hadn't increased the wind speeds or updated forecast.
The island above the butterfly looking island is Antigua. Direct hit.
After the first guests finished breakfast around 8:30 AM, the wind had picked up to 65 knots. The guests started to get worried, so I tried to assure them the best I could. I felt strung out from no sleep and the anxiety of the impending storm, but adrenaline kept me going. I tried to make jokes with the guests and keep them happy, but then suddenly the shit hit the fan. A loud cracking noise was heard at the bow of the boat and I looked at the knot meter to read 98 knots steady and going up. Mike went outside to see what happened and came back to inform me that all of our secondary anchor systems had failed, the bridle hook (a 3/8" stainless steel hook) had completely straightened out, the 1" thick backup lines had all snapped, and the chain was paying out of the anchor locker rapidly. The good news is that our anchor was holding! Mike had turned on the engines and had placed them into forward at full speed, but we were still being blown back (wind speed was over 100 knots at this stage).
Being surrounded by reef, we were worried about the slightest amount of drag.
The boat started shifting a bit to the port and it seemed as if we were starting to be pulled
Not us, but another crazy fool out there before it got bad!
under. Mike told me he had to go to the bow to check the anchor again because the line that attaches the anchor to the boat was caught in the windlass and was being severed. He needed to cut the line and motor us to safety. At this time, all of the guests were awake and terrified. We started stowing things to the best of our ability because we were being tossed about quite a bit. One of the most vivid images that sticks in my mind is seeing pineapples fly across the saloon nearly impaling my guests and watching a 300 pound man fall out of his seat (he was on the high side) as the boat was being pulled under on the port side. Despite all the distractions, I was keeping focus on Mike since he wasn't wearing any safety gear. Just as he reached down to cut the line on the anchor chain, the wind picked him up and launched him into the trampoline (lucky landing). It was at that moment when my emotions got the best of me. After days of not feeling anything, everything came to the surface and I had my breakdown. It was so blurry outside, I didn't know if Mike was ok, but I saw him moving back to cut the line. Once we were free, the boat was out of control and Mike was completely out of sight. Once again I felt helpless. I felt like I had lost him. Flashbacks of the friends we lost in Mexico were filling my mind as I repeatedly said, "not again, not again." I shouldn't have been out there.
Mike saved our lives that day. He didn't even let emotion get in the way, but rather did what needed to be done. At this point, the guests were beyond terrified, but I never stopped moving and doing what I needed to do (I was just shedding some tears and expletives while doing so). I was stowing plates, cutlery, books, exotic fruits, and the remains of breakfast items in any available spot all while trying to pull out lifejackets, dodge the puke sliding all over the floor, and getting everyone safely settled and cared for. One lady had left her bathroom hatch open and flooded the bathroom with about 2 feet of water, so in the midst of all the drama, I had to wade through the flood to close the hatch because we were off for a very bumpy and wet ride. The boat was leaking like a sieve because all of the windows in the galley and saloon were supposed to get re-caulked while we were away on vacation, but they never did. It was like a waterfall pouring into the boat. At one stage when the wind speed hit 110 knots, I told all the guests to get to their cabins. I honestly felt that the windows were going to blow out. Fortunately, they didn't, and the majority of the guests stayed up in the saloon because they were all sea sick and puking everywhere. Everyone found a secure spot on the floor or couch and we all tried to calm each other down. I vividly remember one of the guests praying over and over again out loud, which made everyone that much more emotional.
Meanwhile, Mike was above in the worst of Hurricane Gonzalo being the brave soul that made sure we were all safe. I have mentioned it many times before; this man thrives in stressful, harrowing situations. He is my hero. Once we were free from the anchor, Mike was navigating through the tricky reefs to take us back to Jolly Harbour Marina. Fortunately, he had made a track on the chart plotter the day before and was able to follow that to navigate us to safety with the limited visibility. The swells were big for this area, roughly 10-12 feet, which is not very comfortable in a catamaran. For me, this part was the least scary because I have been in some crazy weather offshore and I know Mike is confident in his abilities in this type of situation. For the guests, however, this was probably one of the scariest parts because they were not used to the loud thumping of the waves slapping the belly between the two hulls of the catamaran and the large waves crashing over the bow of the boat. As I calmed down, I noticed they were getting more nervous and upset. I did my best to comfort them, but I knew they were severely traumatized.
After 30 minutes, we got into the lee of Antigua and everything started to calm down. I ventured outside to make sure Mike was ok, and he was in his element. I could see the adrenaline pumping through him and I knew we were going to be just fine. I started to make calls to the marina and to our managers in St. Maarten to tell them what happened and to get a game plan for what to do next. We were told to hurry up and get secure into any slip because the eye was almost past us and the backside of the storm was about to hit. As we approached the marina, we noticed a great deal of devastation. No one was prepared for a storm of this caliber. Boats had sunk in their slips, docks had broken apart, and major damage had ensued in the storefronts. Maybe we were lucky after all.
It was really hard to get the boat secure with crazy winds and the tight spot that was the only safe spot to go. Our guests were amazing as they helped us get secure without a flinch. I saw a woman waving at me up on shore, so I immediately told my guests to leave the boat and walk to the woman to seek shelter. Mike and I finished a few more details of securing the boat so we could safely leave it. The guests had found a restaurant that looked like a bomb shelter in the back. Boat owners were hunkering down waiting for the storm to pass. I took off with handheld VHF and started the hunt for a hotel. There were trees and power lines down everywhere. I realized it was probably pretty unsafe for me to walk around at that time, but I was so focused on making sure these people were safe. Nothing in the nearby area was available. All the hotels had suffered damage as well and their ground floor rooms were all flooded. They were desperately moving guests around to accommodate everyone and didn't have any room for new guests.
Despairingly, I got on the phone with my manager Simon in St. Maarten and told him my scenario. He spent a few minutes researching and calling hotels on island for us and eventually found us a place that was accepting guests. Unfortunately, it was a 30-minute drive away. I went back to the restaurant to inform the guests of my findings, but the restaurant owner was strongly advising us not to go to the hotel. It was a tough scenario, but I had to trust my gut here and decided that we needed to get to this hotel. The guests were not staying onboard the boat as they were already traumatized enough. They all went back and gathered their belongings and valuables, while Mike and I stocked coolers of booze and food to take with us. Mike wanted to stay with Dreamer, but our managers told him not to. We all piled into a taxi, relieved and a bit anxious, and traversed through the rubbish that Hurricane Gonzalo had created on this beautiful island. We didn't miss a beat. As soon as the guests got to the hotel and found their rooms, I got straight to work making lunch for 10 in the kitchenette in one of the rooms. That was interesting. Needless to say, we all filled our bellies with a very late lunch (about 3pm at this stage) and then Mike and I disappeared while all the guests laid down to rest.
Mike and I didn't really know what to do at this stage, so we just kept moving and I think that helped us get through all this. We found out that one of the nearby grocery stores was open, so we taxied there to pick up some of the missing provisions for dinner that night. We took our sweet time grocery shopping not only to give the guests time to sleep, but also because it was a mad house with everyone stocking up on food. Eventually, we made it back to the hotel at nightfall and I started to prepare dinner for the guests. Mike had gathered up some tables from other hotel rooms and made up a beautiful dinner table that would fit all of us around it. It was as if we were still on the boat. As I made the finishing touches on dinner that night, Mike gathered everyone together to join us for a beautiful candle lit dinner on the beach in front of the hotel rooms. Everyone was in good spirits as if the entire day was just a bad dream. We laughed, bonded, and toasted our fearless Captain for saving our lives that day.
When dinner and dessert were finished, Mike and I quickly washed up and left the guests with a couple more bottles of wine and plenty of hugs and good spirits. We offered for them all to come back and join us on the boat the next morning around 10 AM for a lovely brunch, if they wanted to. We wearily rode the taxi back to the boat and didn't get home until about 10PM. Upon arrival, it looked like a war zone on Dreamer. There was blood, puke, salt water, and bits of breakfast scattered all about the boat. The three deep sinks were filled to the brim with dishes and I was finding all the weird places that I stowed everything in the midst of the drama. The last thing I wanted to do was clean this mess up, but if we were going to carry on with charter, we had to. We stripped the entire boat and started from scratch, as if we had never been on charter. I detailed the guests' cabins with fresh linens and creative towel animals for a happy greeting upon arrival. By 2 AM we were able to finally rest. It was the longest day of my life, and I venture to say one of the worst, but I learned a lot that day and will never forget the experience.
For the record, the next day we had the most beautiful weather and every single one of our
guests came back to join us. We carried on with charter as normal, and although everyone left happy, I know that they were all greatly changed by this experience.
For your information, Mike and I have decided to give up boating and try out a new profession as Storm Chasers, since we have such good luck with storms chasing us (just kidding)! After two major hurricanes in one year only a few weeks apart, I believe it is safe to say that I never want to experience that again.
Mike and I carried on with our charter season, but it took us a few months to fully recover. It was apparent that we were losing the passion for chartering. We knew we couldn't make it until the end of the season, so we decided to put in our resignation and finish our time with Tradewinds in February 2015. It was hard to say goodbye to Antigua and to the beautiful boat Dreamer, but we were ready. I always said that chartering has a shelf life, and for us our time was up.
We left Antigua feeling bittersweet. Excited to move on and get back to our boat and cruising lifestyle, but sad to say goodbye to all of our friends who made our time there incredibly special. We took a bit of a holiday to Maui for a week to catch up with old friends and to relax a bit, we stopped off in San Francisco to see our good friends Petter and Octavia and to buy a car, and then (after an unexpected engine rebuild on the newly bought car) we drove down to San Diego to get everything we needed to bring into Mexico with us.
Our lives are not short of adventure and excitement! As we crossed the border into Mexico we would have one more hurdle to get past. We crossed pretty late in the afternoon, so we decided only to make the two-hour drive to Ensenada because we do not like to drive the Baja at night. While standing at a crosswalk in Ensenada that night, we were abruptly hit with the uproar of sirens as a train of 150 police cars flew through town shutting down the main street. We didn't know what was up, but we knew it was big.
The next morning we woke up early to make good time and try to beat the morning traffic in the city. As we passed through some of the small villages along highway 1, we noticed that people were behaving strangely. Additionally, there were huge piles of burning tire rubbish scattered along the roads. When we passed through one village, there were giant boulders blocking the road so cars couldn't pass through. We were able to pass through on the dirt on the side of the road, but as we did so a man picked up a road sign and threw it at the back of our car (not hitting us fortunately). I think he was pissed. We kept going, but started to get a bit uneasier about what was going down. Additionally, we noticed that cars were lining up for gas, which seemed odd. We decided to get fuel ourselves so we could just blow through these towns without having to stop again. We waited 45 minutes, but eventually got to fill up. I asked the gas station attendant what was going on and he said riots by the farmers protesting low salary and rights due to reports of violence in the workplace.
As we left the gas station in the town of San Quintin, we noticed swarms of people organizing in the streets. There were thousands of people that had walked from surrounding villages, all to congregate at the Central Government building in the center of San Quintin. We were driving slowly, following the cars in front of us, when everything came to a screeching halt once we reached the Government building. Again, the giant boulders blocked the road, but there wasn't a pass through on the dirt side road this time. People were screaming and shouting in Spanish and we had no idea what they were saying. They were not interested in us, fortunately, but they were not going to let us pass. In front of the government building the police were standing in a line with giant medieval looking shields protecting them (so that's where all the police went). Eventually, after about 10 minutes of being stopped, we heard clapping and uproar. The people started to remove the boulders and we were able to pass through. That was the last we saw of any demonstrating, although we did continue to have to dodge the burning trees, tires, and
trash thrown all over the roads. It turns out that we got pretty lucky; about 20 minutes later, the barriers were back up and cars were unable to pass through for 2 days (which we found out once we had safely made it back to La Paz). Good thing we left when we did!
So now, after all of that, I have finally reached the point to tell you that we have come full circle with this post and that "here" is back in La Paz, Mexico. We continue to fight battles with the yard owner over getting our boat painted and splashed back into the water, but it isn't deterring us, just slowing us down. We have rented a small apartment in the city for our time here so we don't have to live in the boat yard and it has been an interesting change to see what life is like in La Paz landlubber style. Not much to report right now, but stay tuned for my next blog post because we have some incredible news about our future plans and will have pictures of our boat after the refit!!!
**Sadly, I cannot take credit for any of these photos, but mine are coming soon!**